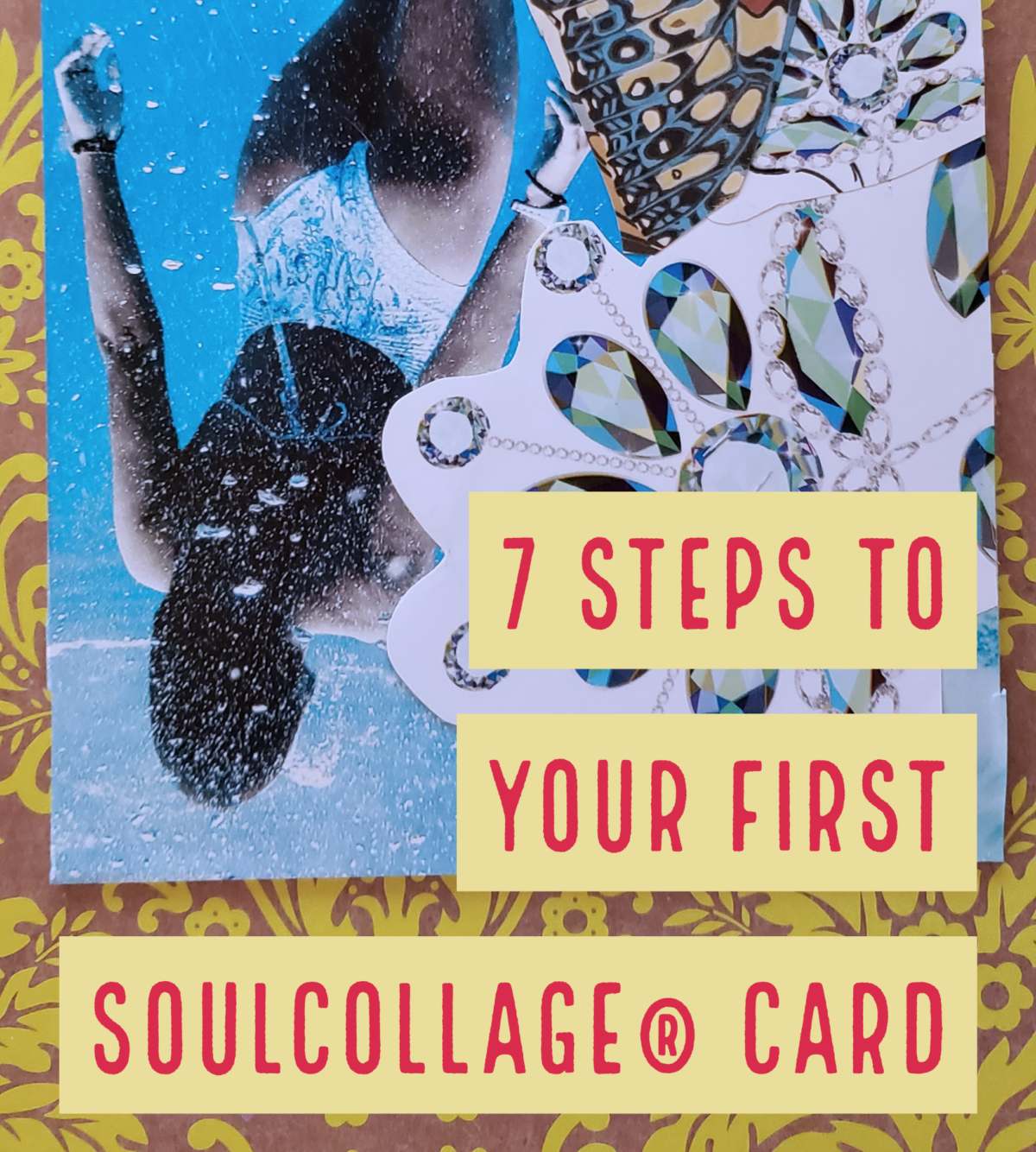 When you gather images from magazines and other sources, when you cut them out, paste them onto cards, and then consult them, it is a sort of miracle. You are gathering your various inner parts, conscious and less conscious, lovable, irritating, beautiful and shadowy, and then you "sing" over them so they can transform into a freer more vibrant Soul" ~ Seena Frost
The SoulCollage® process was developed by Seena Frost an American psychotherapist in the 80s. SoulCollage® is a unique, creative and intuitive way of discovering and exploring different aspects of yourself. Found images are selected and combined to create a collaged card that reflects a part of who you are. Each card is given voice with the "I Am One Who" journal process. Your SoulCollage "deck" will come to be a collection of tiny windows, each offering you the opportunity to come to know a small part of yourself better.
All of you is worthy & worth knowing better™
7 Steps to Your First SoulCollage® Card
The most important thing to remember while you are making SoulCollage® cards is these are your cards, your deck, your way. The following steps are only suggestions for how to jump in and get started.
Create a sacred space – what ever that looks like for you. Perhaps light a candle or burn some sage or incense. Place a beautiful scarf or piece of fabric and make a small alter. You can play music that inspires you in the background – try the SoulCollage® Upbeat Music for Card Creation playlist ►
Gather your materials – you will want the following:

a piece of 5″ x 8″ mat board, cardboard, or index card
a pair of scissors,
glue sticks or rubber cement,
found images – from magazines or online sources (*important tip: read "Why to use Royalty-Free images in SoulCollage")

Spend some time with your collection of images. Find 4 or 5 that really have a charge for you in the moment. No need to question why – if you like it, are moved by it, even hate it – those are the ones to work with. Avoid anything with words or cut the words out – these can pull you back into rational, conscious thinking and you want to stay in your creative, intuitive zone.
Working with your blank card and your images, play around with arranging them to fit on your card. They can overlay or be placed next to each other. You can trim an image down to just the essential element. Trust your intuition. You know what is "right" for you.
When you have your collage arranged the way you want, glue them onto the 5″ x 8″ mat board or cardboard.
Trim up the edges if needed. You can cover the back of the card with a patterned paper if you choose.Spend a minute with your card – what do you notice now that your imagery is woven together? How does the card make you feel? What messages do you think these images could have for you?
That's it… you've done it! Your first SoulCollage® Card. Welcome to this wonderful, fun, enlightening process.